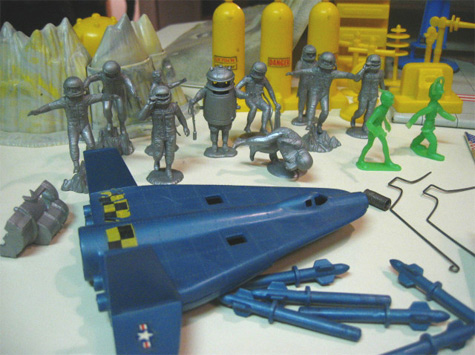 Quizás suene a muy oído, pero ya no hacen juguetes como los de antes. Es que los americanos del norte, que le dieron mucho a la ciencia ficción durante los 50 y los 60, supieron sacar provecho al filón que provocó la moda de los platillos volantes.

La casa Marx (no creo que tenga nada que ver con el famoso cómico de negro mostacho) ofreció en 1962 el juego OPERATION MOON BASE, un magnífico divertimento de conquistas espaciales, con alienígenas y todo. 75 piezas (que se convierten en 100 si se desarman), una base lunar modelada con cráteres, centro de operaciones con construcciones, naves y platillos, rádares… En fin, un juguete muy completo, que a buen seguro provocó horas de diversión a sus poseedores.
Por supuesto, conseguir esta joya no es nada fácil.

Aquí más detalles y más fotos, para su recreación visual.
You can follow any responses to this entry through the
RSS 2.0
feed. You can skip to the end and leave a response. Pinging is currently not allowed.
2 Responses:
Leave a Reply